The new 3-in-1 Soul Mist. Available now.
Complimentary luxury velvet travel bag with each order
Room Spray. Meditation Spray. Pillow Mist.
(Includes luxury velvet travel pouch)
"It's more than a Scent. It creates Positive Energy. You can feel the change."
We are delighted to announce the launch of The Universal Soul Company's first 'own brand' product, a 3-in-1 'Soul Mist', in signature fragrance 'STILL'.
Room fragrance. Meditation Spray. Pillow Mist.
This luxurious, uniquely alcohol free spray, creates POSITIVE ENERGY. Made with 100% natural essential oils, mineral water energised by crystals & hand blended in the UK, it ensures a stress free, luxurious environment wherever you are. Vegan. SLS?Paraben Free.
Designed to counter daily stress and combat environmental toxins.
So how does it STILL 3-in-1 Soul Mist combat my stress?
It does it by creating ions. The movement of air and water, as it's sprayed, breaks up air molecules, which creates desired negative ions, instantly – similar to those you experience when close by the ocean or a waterfall – and so POSITIVE ENERGY wherever you are.
Grounding, nurturing base notes of patchouli, pure clean middle notes of lavendin & uplifting delicate top notes, create an exquisite mist, to energise by day & gift rejuvenating sleep by night.
For use at home, the office, the car, yoga or pilates studio, during travel, or to create an environment of well being, wherever you are.
1. Uplifting, stress relief by day | 2. Space clearing & protection when meditating | 3. Gifts positive, rejuvenating sleep by night.
NO ALCOHOL OR ARTIFICIAL FRAGRANCE means it's the safe choice around babies, children, pets, on fabrics, linens & soft furnishings.
Non flammable, so suitable for air travel – may also be sent through the post.  
Vegan. Cruelty Free. Sustainable. Conscious Beauty. Positive Luxury
1. As a ROOM SPRAY –  Creates POSITIVE ENERGY. The fresh and uplifting fragrance is designed to clear and refresh the energy in a room.
2. For MEDITATION –  Spritz around your silhouette to create a cocoon of protection, balance & grounding. May also be used to space clear.
3. As a PILLOW MIST (or linen spray) – Spritz onto the pillow before sleep for the most rejuvenating night's sleep – & again to awaken the senses in the morning.
PURE CLEAN LUXURY. Wherever you are.
Packaging Options
Your product is also available with the option of a stunning Gift Bag. Make sure you select the Gift Bag option at the point of ordering.
Delivery
We offer either a Standard (3 to 5 working days) or Next Day Delivery which can be selected at point of ordering. Due to the Christmas period, we will endeavour to deliver your product as soon as possible but it may well be the New Year.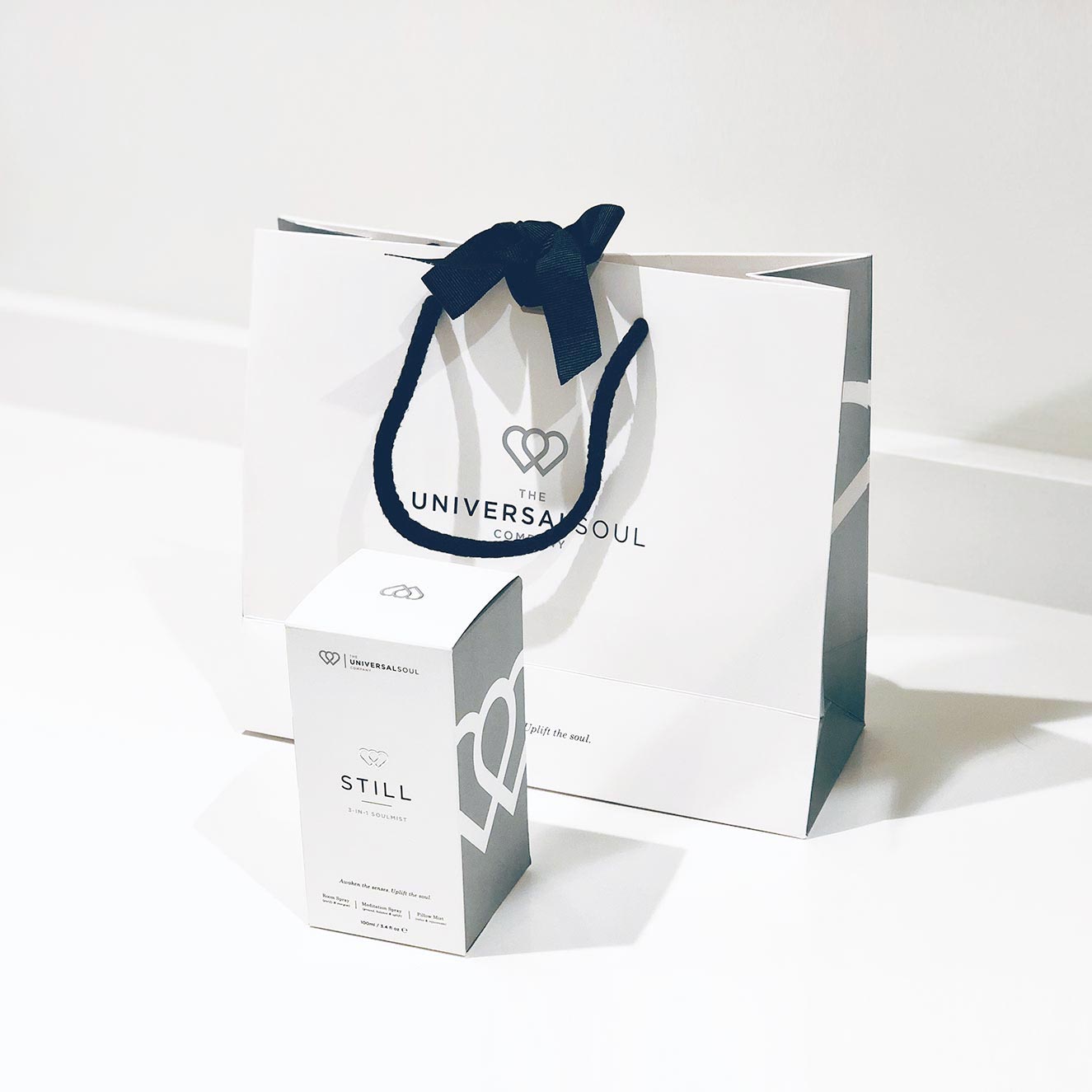 The Universal Soul Company has been awarded the Butterfly Mark, powered by Positive Luxury, in recognition of being a responsible brand that minimises our environmental footprint while maximising our social good. Our aim is to inspire and motivate people to make responsible choices about the products they buy. Everyday actions make a big difference to the world.
Visit Positive Luxury